The world of oil and natural gas industry and its process still remains to be a challenging industry. Besides a promising profit and the possibility of natural resource exploration, another reason is competitive business players that could really exist in the industry.
PT Chitra Bhaskara Indah dedication in the industry has proven by achieving ISO 9001:2015 from APIQR and API Specification Q1 from American Petroleum Institute. Strengthening the company existence in oil and natural gas industry in the country.
History
PT Chitra Bhaskara Indah established in August 27th 1986 by Pratiknyo Adi, and based on General Meeting of Shareholders dated June 1st 2004, PT Chitra Bhaskara Indah is led by Dendy Astika since June 14th 2004. At the beginning operation CBI played its role as domestic producer, exporter, importer and solo agent also as well as distributor equipment of oil exploration. Along with its development, CBI is now providing service and rental of equipment of oil and natural gas exploration.
Strong relationship with customer, Pertamina, which is also supported by another oil contractor boost the Company to enlarge the operation network up to Java, Sumatra and Kalimantan.
Meeting the customer expectation, the Company continuously makes a recovery in all aspects, such as building better infrastructure. This proven by a workshop in Bumi Serpong Damai (BSD), Taman Tekno, has received quality standard certification from American Petroleum Institute (API). Specification: APIQR/ISO 9001:2015-1137, Q1-0932, 6A-1103, 7-1-0772 and 5CT-2217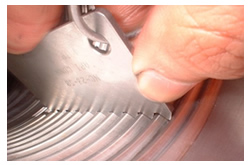 Manufacturing
Competent human resource and imported work equipments to bring forth qualified assembling products.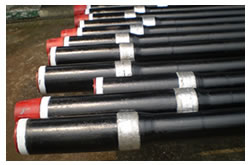 Services
PT Chitra Bhaskara Indah also serves tools reparation service or customer operational equipments. Reparation is including testing and inspection to bring back into previous condition and is ready to operate.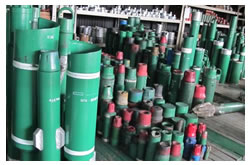 Rental
Fulfilling market demand, particularly oil and natural gas equipment rental, PT Chitra Bhaskara Indah builds Rental & Maintenance Department. The main duty of the Department is to provide equipment rental services, before and after operation, as well as to maintain and keep them in a good condition.
Vision & Mission
VISION
TO BE THE BEST COMPANY IN MANUFACTURE, RENTAL, SUPPLY AND DRILLING EQUIPMENT SERVICE
MISSION
TO BE THE CUSTOMER FIRST CHOICE OF PRODUCT SERVICES IN OIL INDUSTRY.
Giving protection and satisfaction to the customer.
Controlling to every process by applying quality management system in accordance with ISO 9001:2015 standard.
Performing a focus and sustainable human resource development.
Offering competitive price, on time delivery to the customer.
Certifications
P.T. Chitra Bhaskara Indah facility under API License :
APIQR/ISO 9001:2015 No. 1137
API Q1 No. 0932
API 5CT No. 2217
API 6A No. 1103
API 7-1 No. 0772
Certificate of Registration:
ISO 45001:2018
ISO 14001:2015